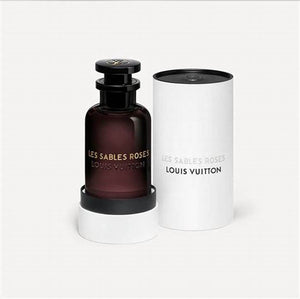 Louis Vuitton Les Sables Roses EDP 100ml (Unisex)
Regular price R 400.00 Sale
Louis Vuitton Les Sables Roses Eau de Parfum in the 100ml size is an exquisite olfactory masterpiece that transcends traditional gender boundaries. This captivating fragrance is a harmonious blend of the masculine and feminine, combining strength and sensuality in a unique olfactory symphony. The perfume opens with a burst of citrusy and fresh notes, awakening the senses with the zesty embrace of grapefruit and mandarin. As it unfolds, delicate floral hints of peony and jasmine gracefully intertwine with the warm, woody accents of cedarwood. The base notes of amber and white musk provide a soft and lasting foundation, creating an aura of timeless elegance.
Fragrance Notes:
Top Notes: Grapefruit, Mandarin
Middle Notes: Peony, Jasmine
Base Notes: Cedarwood, Amber, White Musk
Encased in a beautifully designed bottle that reflects the brand's signature craftsmanship, Les Sables Roses EDP is a scent that exudes sophistication and allure, making it an essential accessory for individuals who appreciate the finer things in life. It is a fragrance that transcends the boundaries of gender, inviting anyone who wears it to embark on a journey of self-expression and confidence.