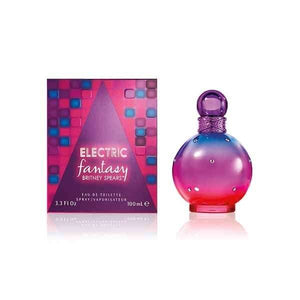 Britney Spears Electric Fantasy EDT 100ml
Regular price R 400.00 Sale
Britney Spears ELECTRIC FANTASY captures the effervescence of a world where dreams meet reality, a scent that embodies the pop sensation's iconic blend of boldness, allure, and charm. Upon its introduction, a sparkling cascade of citruses and red fruits dazzles, reminiscent of neon lights piercing through the dusk, setting the stage for a night of unbridled magic.
As you journey to its core, a heart of white florals and sugared notes takes the spotlight. This intoxicating blend paints the image of a fantasy ballroom, where crystal chandeliers sway to the music's rhythm, and every whisper carries tales of passion and star-crossed romances.
Grounding this kaleidoscopic journey, a base of creamy sandalwood and sultry musk emerges. These sensual notes mirror the embrace of velvety stage curtains at a show's finale, leaving behind a trail of memories, encore chants, and the promise of more unforgettable nights.
Encased in a bottle that gleams with its vibrant hues and undeniable energy, Britney Spears ELECTRIC FANTASY is not just a fragrance. It's a showstopper, a testament to the thrill of the spotlight, and a celebration of every moment that makes the heart race.